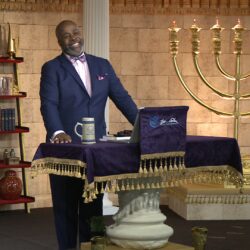 Shalom Saints,
Arthur started by saying he was chomping at the bit to encourage and challenge us with this teaching.  I can testify that is exactly what he did!  The first challenge was to use our imagination to put us in the Biblical scene and try to have a firsthand experience of what was happening.  This is so important in order to get the context of what is happening.  Yeshua told us that we will do what He did and MORE.  So we really need to picture what Yeshua did and emulate it.  Listen to the preamble to the teaching. 
As part of putting us in the scene of Acts 2, Arthur tells us that Peter is talking to people who have kept the rabbinic laws all their lives. They were looking for the Messiah. However, when the Messiah came, they did not recognize him; they murdered him. How did this happen? Arthur explains that IF they had been following the Laws of Yehovah, the Israelites and the religious rulers would have recognized Yeshua as the Messiah. This reality that Peter shared with the people was so powerful that 3,000 persons repented and were baptized as believers of Yeshua the Messiah.
When we listen to Christian sermons or read the Bible on a surface level, we miss the rich contextual information that is right before us. Listen as Arthur describes what the same people at Pentecost experienced 50 days earlier at the Passover Celebration!
Now I can really put into context why one of the two Saints on the Road to Emmaus said to Yeshua, "Art thou only a stranger in Jerusalem, and hast not known the things which are come to pass there in these days?" Luke 24:18 KJV
The next challenge for us was to take what we learned about the people in the Bible and apply it to our lives. Yeshua was in the midst of them, but they were listening to their religion. Listen to Arthur's solemn call for us to mediate on this teaching and to constantly assess our lives and repent so that we are true to ourselves and to our Elohim.
What is keeping you from living totally devoted to our Messiah?
Sharon's Reflections on the Teaching
This was one of my infrequent times of being part of the Online Community since moving to Charlotte.  One perk is that I can stop the video and write the full sentence that Arthur is speaking. Sometimes Arthur can speak dramatically fast.  When I do this, I am 10-15 minutes behind the regular Broadcast time. 
Well, I received a message from my Sister Saint in Germany, who writes the blog for Marcus Da Costa at HOI London.  She asked me to include what Arthur was saying about forgiveness and strongholds in a Short.  I panicked.  I didn't hear him talk about that!!  Could I have missed that?! Then I remembered, I was lagging behind in the Broadcast.  Whew!!
When I did hear the part she was referring to, my heart was pierced. I was convicted and driven to repentance. As a matter of fact, I asked Floyd for forgiveness on the spot.
The rest of my Sister Saint's message was that she was thankful that the Father used Arthur to reach her in an area where she needed to understand and grow.
Another Sister Saint called me a little before sundown to say that she had missed me at service today. Then she went on to say that Arthur had spoken directly to her too. She said she sometimes wants to ask Arthur, "Who told you that about me?!" We laughed! I shared how I feel that way often.
This is the portion of the teaching and closing prayer that struck us to the core. We truly want to be free in every area of our lives! No bondage at all! We rebuke all shackles and embrace the new creation in us. Holy Spirit bring your cleansing power and destroy every yoke that is not of Yehovah!
Please listen. Be convicted if necessary. Repent if required. Above all be blessed!
Until next time… Blessings to You and Yours,
Sharon