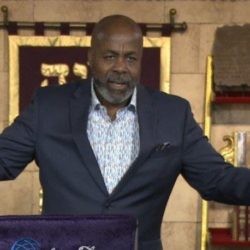 Shalom Saints,
This was the culminating teaching on Chapter One in which Apostle Peter describes to us the things we must add to our faith so that we never fall. Arthur described Peter as a master at falling; denying Yeshua was a major fall. So Peter knows what he is telling us; faith alone will not get you through this walk of faith.
We need to add to our faith: virtue, knowledge, temperance, patience, godliness, brotherly kindness and charity. Arthur dealt with each of these "things" in the previous teachings.
We have been given the Holy Spirit to teach us and show us things to come. We were born with character flaws. So when these flaws manifest, we need to address and correct them. Do not make excuses for them. Next, Arthur implores us to remember past experiences when we were warned of things to come, but we did not have ears to hear.
To learn how to hear from the Holy Spirit, check out How to Hear God's Voice
DVD: https://store.arthurbaileyministries.com/collections/dvds/products/how-to-hear-god-s-voice-1
Book: https://store.arthurbaileyministries.com/collections/books/products/how-to-hear-god-s-voice
DVD/Book Combo: https://store.arthurbaileyministries.com/collections/dvds/products/how-to-hear-gods-voice-dvd-book-combo
Then Arthur explores the depth of understanding in Peter's 9th verse:
​
2 Peter 1:9 But he that lacketh these things is blind, and cannot see afar off, and hath forgotten that he was purged from his old sins. (King James Version)
In order not to forget, we must be diligent and intentional in our study and application of Yehovah's Law. This will allow us to become stable in our faith. We need to be constantly in tune to the Almighty because we live surrounded by wickedness in this world. We will have to give an account of our words, attitudes, acts and behaviors; so let us not forget we were purged of our old sins! When we know the truth, but ignore it, we are doing the devil's job for him. Peter is reminding us to act according to the faith in us, not like unbelievers.
A very important message contained in this teaching was for us to discern the spirit on a person so that we do not come under the influence of someone else's spirit. As Arthur has said numerous times before, and it is worth repeating:
When the Father wants to bless you, He puts a person in your life.
When the devil wants to curse you, he puts a person in your life.
It is essential that we distinguish the difference in these spirits!
Sharon's Reflections on the Teaching
Character flaws are issues that we DO NOT have to live with. However it takes courage to look at yourself and see clearly what your issues are. I know. I had to overcome the desire to be perfect and want to blame others for what was clearly my fault. My fault could be 100% or some small portion of that, but I still had to own up to my share whether or not the other person(s) owned their share. This is truly adulthood when we can do this.
Owning up to my flaws helped me not to repeat them. Once I saw where my error was, I avoided that situation. I was no longer on a treadmill with other folks who were in denial. I stopped hanging out with people who only wanted to do worldly things that eventually ended up in regrets.
Owning up to my flaws helped me to have a clear conscience and feel good about myself. I no longer avoided people that:
I thought could see the flaws in me.
I thought were smarter than me, because I felt too embarrassed to say, "I don't know" or "I'd like to know more about that, please explain."
Owning up to my flaws has helped me eliminate confusion in my mind. When I was having a masquerade ball with myself, truth and lies are constantly dancing with each other. When I pulled off the mask, my mind and spirit were able to be at peace within me.
Listen to this teaching and experience true shalom!
Buzz on the Teaching
After the teaching, Arthur spoke on what he heard from the Father and what Arthur sensed in his heart and spirit about the book he wrote on Tithing.
I agree with Arthur, those that do not tithe are setting themselves up for financial failure. Since we started tithing, we have not experienced lack in the finances that we needed. We are the righteous, my family is not forsaken, and we have not begged for bread! I was also encouraged to give a larger Firstfruits offering when I read how my Sister Saint had given and she and her husband were blessed beyond what they had asked concerning a new home. After I gave one of my Firstfruits offerings in 2016, we purchased a home and found out that the appraised value was more than $10,000 above the purchase price. We brought the home with equity already in it!
To Tithe or NOT TO Tithe Book: https://store.arthurbaileyministries.com/collections/books/products/to-tithe-or-not-to-tithe
I can also testify that the ministry has received many Praise Reports and Testimonies from Saints on how tithing has impacted their financial increase.
Do you have a testimony to share about tithing?
Until next time… Blessings to You and Yours,
Sharon