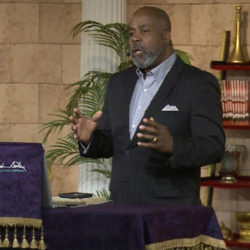 Shalom Saints,
The Holy Spirit's presence was heavy in our midst as Arthur petitioned the Father to help us to fully embrace the life in Him. Arthur asked the Father to help us glean the truth communicated by Peter that was learned from Peter's walk with Messiah.
I felt a portion of the Holy Spirit rain down on us when Arthur uttered "Be glorified in this place tonight." When Arthur paused in reverent thought, David Salinas broke out in an impromptu refrain of worship with those same words. Arthur then continued in prayer by asking the Almighty to speak to us tonight and that the heavens be opened over His people, that His truth be poured out, and that we walk in His truth.
Arthur began the teaching by marveling at Peter's message to us that we can REALLY be a partaker of the divine nature. How wonderful! This teaching is about the list of character traits that Peter reveals that every believer MUST develop. The Holy Spirit helps us to develop these traits and shows us how to have them manifest in our lives.
Faith is a foundation that must be "added to" in order to be successful. This teaching focused on adding virtue and knowledge to faith. Knowledge is vital to faith, but it can also puff up and be the source of divisiveness in an assembly. Arthur did a word search and the English word "knowledge" is either gnosis (general knowledge as in verse 5) or epignosis (correct and precise knowledge as in verses 3 and 8). We all have knowledge; however, we need correct knowledge.
Arthur then transitions to discussing how one must be tested in order to develop and manifest the fruits of the spirit in one's life.
Arthur tackled the controversial topic of eating meat that has been prayed over by idol worshippers. When our freedom creates a stumbling block for someone else, we have sinned. Everything we do sends a message.
Yehovah is continually building our character. The Father is trying to get us to a place of maturity and power. We are either in a time of testing, coming out of testing, or going into a time of testing. When we are in the testing mode, and do not want to deal with it any longer, the ultimate question is, "Why can't you endure this?" Yehovah expects His people to exercise self-control and endure the tests we face.
Arthur ties up the teaching by telling us that Yehovah wants to commune and fellowship with each of us. We need order in our relationship with the Almighty; since Yehovah created all things, He knows best how things should work.
The Holy Spirit was designed to get us to the same place the law was designed to get us: to diligently harken to obey, and be blessed.
Sharon's Reflections on the Teaching
Arthur discussed tests that are stretched out over long periods of time. These are opportunities for us to grow in character and to add to our faith. Here's an example from my life.
Floyd and I married when we were both 41 in 1989. Neither of us had children. After many months of trying to get pregnant, with no results, we decided to go for a professional medical consultation. We already had "layperson medical advice" from my mother, "Your eggs are too old!"
The fertility doctor examined both of us, ran tests and determined that I had a blocked fallopian tube and Floyd's "little men were mostly sunning on the beach instead of swimming in the ocean". Now with that explanation, I had flashbacks of my mom's terminology.
So, I had my tube blown out. These were the terms the professionals were using! It was so painful. I asked the nurse, "Is childbirth worse than this?" When she said, "Oh, yeah!!" I was nearly ready to give up the pursuit of children.
After all the tests, the doctor told us that I could get pregnant without any medical interventions. He suggested that I take my temperature to know when ovulation would occur in order to maximize our efforts. Sure enough, several months later, I became pregnant. However, I miscarried at 6 weeks.
Trying to conceive is an emotionally draining business. For half the month you are in high expectation that "this is the month". And for the other half of the month, you are depressed because it turned out to be "not the month". The highs and lows were nerve racking.
In May 1992, my Mom and I went to visit Uncle Russell and Aunt Mary in Alabama. Upon arrival, I was questioned:
"Where do you live now?"
"What kind of work do you do?'
"You married?"
"How many children do you have?"
"What!! No children? Girl, I'm gonna take you to see what happens to old folks that don't have no children."
Aunt Mary hustled the four of us into Uncle Russell's car and we went down some dirt roads and stopped in front of a dilapidated house that was leaning at least 60 degrees to the side. For non-mathematicians, it was tilted more than the Leaning Tower of Pisa. It was nearly covered with brush, vines and kudzu. I sighed heavily at the thought of going into that house, but I had kinfolks in there and my curiosity was overwhelming. Besides that, Aunt Mary was on a mission and she would have yanked me in there at my slightest hesitation.
Inside was Si' Rev (short for Silas; he was a former preacher) and his wife, Fannie Belle. Both of them were in their 90's. Si' Rev was dressed in an insulated hunting outfit that went from his neck to his ankles with long johns underneath. He was sitting in front of a kerosene heater that was on full blast, talking to his 70 something brother. I was about to pass out from the heat because the outside temperature was at least 95 degrees. Fannie Belle had Alzheimer's and was sitting in the kitchen while a neighbor was combing her hair.
When we left, Aunt Mary started in on me. "That's what happens when you don't have children to take care of you. Si' Rev's brother is the one who comes to make sure they have food and he's old himself. You better have some kids, or you'll end up the same way!"
I was too stunned to start explaining the reasons why I didn't have children. I just agreed and said I'd better get some kids soon.
When I returned to Floyd in Detroit, I remember sitting on his knee while crying and balling about how we were going to end up like Si' Rev and Fannie Belle. Poor Floyd, he couldn't do any more than he was already. And I know he was probably making a mental note, "Last time she's going to visit those crazy relatives!"
Well, miracles of miracles, I got pregnant the next month. After ten weeks of mental exuberance and lots of doctor-ordered bed rest, I miscarried at 10 weeks.
A year or so later, my Mom and I went to visit an elderly couple. I hadn't seen them in years. We were all sitting around the kitchen nook and the husband started with the questions.
"You married?"
"Who did you marry?"
"How many children do you have?"
"No children! What's the matter? He can't pitch, or you can't catch?"
I laughed, and in a flash I answered, "He pitched, I caught it, but I couldn't hold on to it!" We all laughed.
Eight years later, Floyd and I adopted two children. Winston came to our home at 5½ months. We brought Zoe home from the hospital at 10 days old.
I believe the 8 years of testing helped Floyd and I to grow closer and helped me to mature. I appreciate the similar struggles of others and am able to minister to them. I also developed a desire so deep for children that I think of my children as our gift from Yehovah to be cherished and taught His ways.
Buzz on the Teaching
Multiple times, I have witnessed Arthur speak during a teaching the same things that I or someone else discussed earlier. I believe this happens to me when the Holy Spirit wants me to have a second witness to His instructions; to comfort me; or to convict me and drive me to repentance. Before the teaching, Floyd and I had dinner with a Saintly couple from HOI. Sister Saint and I looked at each other during the teaching with a smile, as if to say, "Wow! We were just talking about that!" When Arthur said something nearly word for word from our conversation, I got poked by my Sister Saint. The issues were:
Pulling free of the world and spending more time with the Father
The Father causes His plans for us to prosper
Having self-control and not letting the flesh man determine our choices
Which of your issues has Arthur brought up when the Holy Spirit (in a sense) made Arthur the "fly on the wall?"
Until next time… Blessings to You and Yours,
Sharon