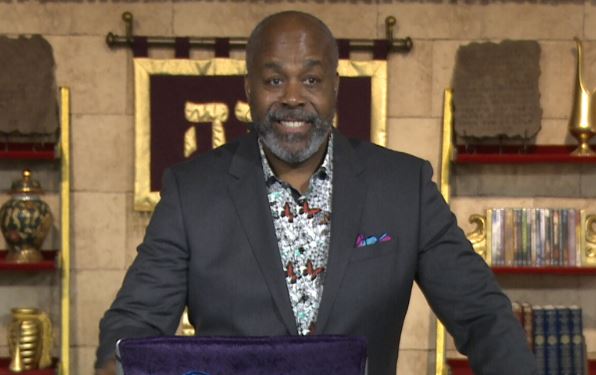 Shalom Saints,
I surmise that Apostle Peter really loved you and me! In this third Chapter, he continues to give us advice on how to grow in faith and how to avoid the pitfalls that could so easily thwart our faith walk. When Peter says, "…I stir up your pure minds by way of remembrance…", I think of him facing me, sincerely looking in my eyes and placing his hands on my shoulders while talking to me. I believe if Peter were alive today, he would be on social media spreading his message. Apostle Peter is not here, but Apostle Arthur delivers this message with the earnest hope that we will have eyes to see, ears to hear, and the determination to obey the wisdom from Yehovah.
Both Peter and Arthur stress that we need faith, but faith alone is not enough. We must add to our faith. In previous lessons, we learned:
 2 Peter 1:5-10
5 And beside this, giving all diligence, add to your faith virtue; and to virtue knowledge;
6 And to knowledge temperance; and to temperance patience; and to patience godliness;
7 And to godliness brotherly kindness; and to brotherly kindness charity.
8 For if these things be in you, and abound, they make you that ye shall neither be barren nor unfruitful in the knowledge of our Lord Jesus Christ.
9 But he that lacketh these things is blind, and cannot see afar off, and hath forgotten that he was purged from his old sins.
10 Wherefore the rather, brethren, give diligence to make your calling and election sure: for if ye do these things, ye shall never fall: (KJV)
Throughout the ages prophets, apostles, and believers have warned us about the challenges that will try our faith.  With these warnings, they have given us instructions on how to overcome and be victorious.  Here are some of the words of wisdom that Arthur shared in this teaching.
Our love for our brethren is a demonstration of our love for the Messiah.
When you know a brother is doing wrong, you are responsible to go to them and let them know.
The fruit that you produce is evidence of who you are. When the Holy Spirit is in you, you will produce the fruits of the spirit.
Learn more about: Now Concerning Spiritual Gifts:
https://store.arthurbaileyministries.com/collections/dvds/products/now-concerning-spiritual-gifts
We must be watchful that we do not speak "pride" or come into agreement with pride.
Beware of people who make an agreement and then want to get out of fulfilling their responsibilities.
Assess your priorities and values by looking at how you spend your time. How much time do you spend communing with Yehovah and reading His word?  How much time do you spend on your own pleasures and endeavors?
One of the worst sinful acts is sexual immortality. That act is not only a sin against Yehovah, but a sin against yourself.
When you encounter people who question the second coming of Messiah, they are really doubting our Messiah and Yehovah who sent the Him. This ultimately boils down to that person questioning your faith.  
True saints should not be willfully ignorant.
Our Father does not count time as we do. We have faith and we keep believing because our Elohim is not slack concerning His promises.  He is patient because He wants to save all of us.
2 Peter 3:8-9  
8 But, beloved, be not ignorant of this one thing, that one day is with the Lord as a thousand years, and a thousand years as one day.
9 The Lord is not slack concerning his promise, as some men count slackness; but is longsuffering to us-ward, not willing that any should perish, but that all should come to repentance. (KJV)
Our commission is to take the faith once delivered to the Saints to the whole world.  Let's do our part right now by living the word and being a light to those around us that are in darkness.
Learn more about Contending For The Faith once delivered to the Saints:
https://store.arthurbaileyministries.com/collections/dvds/products/contending-for-the-faith
Sharon's Reflections on the Teaching
How would a Torah believer be willfully ignorant? I know several ways from my own personal experiences. The primary way would be not reading the Torah. When I first came into the Messianic Faith, I listened to the teachers more than I spent time reading on my own. I was convicted during the first year and read Genesis to Deuteronomy within a month. I highlighted all the areas that pertained to me and my family. I figured if I was being held accountable for keeping the Torah, I'd better know what it says.
Restaurant eating is a place where I had to learn to ask questions even when the menu items I selected were on the Biblically clean list. For instance, cod fish is Biblically clean, but not when fried in the same oil as the shrimp or calamari. Beef steaks are Biblically clean, but not when they are grilled on the same grill as the bacon. I have learned to ask about the preparation of my food and do not assume that I'm alright with Yehovah just because I "have done my duty" by ordering "clean" items.
We have to exercise our due diligence in every area of our lives.
Buzz on the Teaching
I am in London visiting the brethren at HOI-London! I can hardly wait to have fellowship with them on Shabbat. Brother Marcus, the pastor and teacher at the congregation, has shown us around the city and hosted us at his home. It was delightful to meet his wife, Natalie, who is really into gardening and eating Biblically healthy.
What I have noticed here is the cultural and ethnic diversity is more than I have ever noticed anywhere else in large cities; even more so than when I lived in New York City. Marcus had said in his teaching last Shabbat that the hamlet in which he lives has over 100 languages spoken. It amazed me to see so many different kinds of ethnicities and hear the cacophony of voices in the airport, streets, restaurants, stores, and in our hotel.
I am reminded of the picture of believers given in Revelations:
Revelation 7:9
9 After this I beheld, and, lo, a great multitude, which no man could number, of all nations, and kindreds, and people, and tongues, stood before the throne, and before the Lamb, clothed with white robes, and palms in their hands; (KJV)
I thank Yehovah for the glimpses of glory that He gives!
Until next time… Blessings to You and Yours,
Sharon