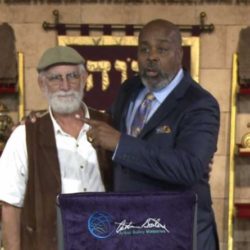 Shalom Saints,
Arthur preached today; and preached and preached and preached AND Preached! The first four sermons before Acts Chapter 2 were on:
1. Communing with the Almighty.
2. The curse of the Law is associated with disobeying the law.
3. Yehovah's Grace does not nullify His Law.
4. Our Father gives us the ability to enjoy the blessings He gives us.
They will all be coming as Teaching Shorts very soon!
Arthur's focus on the Acts Chapter 2 teaching was drawing our attention to what was actually written in Scripture; exegesis.  In doing so, Arthur shined a spotlight on the many scripture passages that we read into them what is not there; eisegesis.  How many of these misnomers are you familiar with?
Learn more about Hermeneutics, Eisegesis and Exegesis through the Discipleship Program. This program is also free here.
Eisegesis
The first Pentecost happened in Acts Chapter 2
The Church was established in Acts
Exegesis
Pentecost/Feast of Weeks/Shavuot is one of the three pilgrimage Feasts of Yehovah that was celebrated by the Children of Israel in the Old Testament.
Luke in the Book of Acts speaks of the Church in the wilderness
Learn more about The Evolution of the American Gospel
Eisegesis
There are only 10 Commandments that really matter.
Exegesis
The Commandments of Yehovah span the First 5 books of the Bible; the Torah.
Eisegesis
Acts
2 
And when the day of Pentecost was fully come, they were all with one accord in one place. 
2 
And suddenly there came a sound from heaven as of a rushing mighty wind, and it filled all the house where they were sitting. 
3 
And there appeared unto them cloven tongues like as of fire, and it sat upon each of them.  (KJV)
A rushing wind entered the house
Tongues of fire were over their heads
120 were in the Upper Room
Noah's three sons were from three different ethnic groups: Asian, African, and European
Alcohol is of the devil.
Exegesis
The sound entered the room
Cloven tongues appeared
This defies logic; scriptures names the 11 that were there after Yeshua's ascension.
This also defies logic.
Wine and strong drink are to be consumed with self-control.
Arthur gives other examples of how some of us have let denominations interpret the Bible for us, to our detriment. Arthur reminds us that we have all picked up information and beliefs from home, school, churches and our environment. We have to always use our brain, use logic, and use the Torah as a filter when reading Scripture.
Sharon's Reflections on the Teaching
There have been times when I was baffled as to how I got into some particularly unpleasant situation. My first thought was "What did I do wrong?" As Arthur said during the teaching, we need to do self-assessments; search our hearts when destruction comes. If we have sinned, repent. If we find there is no sin on our part that is affecting our relationship with Yehovah, then we must accept the fact that it is a test. Our goal should be to pass the test. In Yehovah's Kingdom, there is no sliding by. We either pass the test or we repeat it.
The Holy Spirit has been teaching me to rely on its leading; not on my knowledge or the many voices that come at me from friendly and enemy sources. I found that trying to decipher a path from polling the majority of the voices doesn't work and neither does trying to find the expert of the voices. Recently, I was in such a predicament. The Holy Spirit told me to be patient and wait. Initially, I did not want to wait; I wanted a decision right then. However, I was so convicted by the Holy Spirit that I had to wait. Waiting brought a sense of confidence in the decision the Holy Spirit revealed to me.
There is Shalom in waiting on the Almighty!
Buzz on the Teaching
Arthur announced that HOI is initiating a Thursday E​vening ​Intercessory P​rayer ​Time before Searching the Scriptures. At 6:15 to 6:45, Psalmist David Salinas will be leading prayer for the future of HO​I, for the Body of Messiah, and as the Holy Spirit leads. David is specifically making a call to all those that are not currently married. However, all persons are invited to pray along with us. During the Fellowship time, several Saints expressed an interest in praying and being prayed for.
​Please come and pray with us on Thursday evenings then be uplifted by the worship and word of Yehovah in our Searching the Scriptures Service!
A HOI Online family came to visit. They were originally from my home town of Detroit, and have recently moved to North Carolina. The grown daughter of the family was particularly excited about being at the service today and meeting Arthur for the second time. She also had a lively conversation with David Salinas. She told him that she enjoyed the worship songs so much she wanted to come up front and join the Praise Team!
A family of five came with a friend to visit HOI. The family had heard about Arthur Bailey from their friend only two weeks ago. They started reading and listening to the teachings, and was provoked to attend the services today. They live in North Carolina, not far from Charlotte, so we hope that they become regulars in our fellowship. They had engaging conversations with Arthur and several of the Brethren.
We are continuing to make plans for the Fall Feasts. Just this week, I received messages confirming that my Sister Saint from Texas will be arriving before Sukkot. And another Sister Saint and her family from the Bahamas have made arrangements to be here for the whole week of Tabernacles. This is a time of great expectations for the family reunion of our portion of the Body of Messiah!
Until next time… Blessings to You and Yours,
Sharon