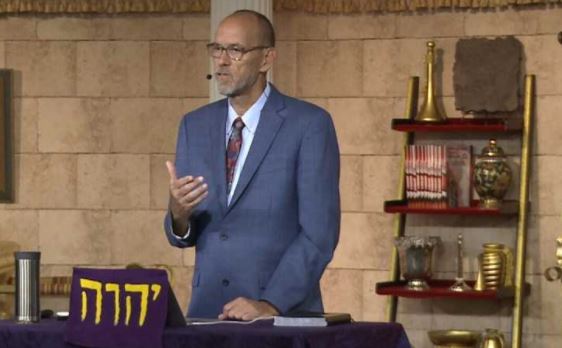 Shalom Saints,
There was a lot to be learned in the lesson today which was subtitled, "How to Get the Most Out of the Seventh Day or Making an Attitude Adjustment About Sabbath." David Rogers focused on what is expected of us on the Sabbath in order to please Yehovah and for us to have a delight in the Sabbath. Yeshua said His yoke was easy and His burden was light. It is the heavy yoke of man-made doctrines and traditions concerning the Sabbath that become burdensome.
David's six main points of "How I Can Delight in the Sabbath" were:
This well-known verse from Isaiah was the key verse for David's teaching.
Isaiah 58:13-14  
13 If thou turn away thy foot from the sabbath, from doing thy pleasure on my holy day; and call the sabbath a delight, the holy of the Lord, honourable; and shalt honour him, not doing thine own ways, nor finding thine own pleasure, nor speaking thine own words:
14 Then shalt thou delight thyself in the Lord; and I will cause thee to ride upon the high places of the earth, and feed thee with the heritage of Jacob thy father: for the mouth of the Lord hath spoken it. (KJV)
By setting apart this day
Listen as David answers the question, "Is Sabbath Keeping a Salvation Issue?"
Learn more about Sunday Is Not the Sabbath? (BOOK)
https://store.arthurbaileyministries.com/collections/books/products/sunday-is-not-the-sabbath-2nd-edition-reprint
By pursuing a relationship with Yehovah
Elohim has a claim on our lives by being our creator and redeemer, so we need to obey him.  The Shabbat is one of Yehovah's appointed times to meet with us.  As David said, it is a clear indication that Elohim will meet with us and we will have his complete attention.  Halleluyah!
By assembling together on the Sabbath
In the assembling of ourselves, we hear the gospel being proclaimed.  The proclamation is of what Yehovah is looking for in us.  In the assembly, we hear and glean information on how to live our lives.
By doing the work of Elohim
Yeshua knew better than anyone what was allowed on the Sabbath.  Yeshua was the living Torah.  He said it is lawful to do good on the Sabbath. 
By expecting help and healing on the Sabbath
Elohim completed creation and rested on the seventh day.  However, the Father is always doing the work of redemption, healing, and drawing men unto Him. 
David concluded, Yehovah established Sabbath to be a delight.  So why wouldn't it be?
Sharon's Reflections on the Teaching
Well, today I was convicted during the teaching and I had to repent of being impatient and taking matters into my own hands. Oh, I made matters worse! So now I am trusting Yehovah to rectify the original issue and to clean up the mess I made! I am glad that Yehovah is willing to help us clean up our messes, we just have to run towards Him and be obedient to what He tells us to do.
I was convicted when David encouraged us to delight in the Shabbat by thinking of all the blessings bestowed on us in the past. Those past blessings are our assurances that Yehovah will continue to bless us now and in the future. However, I had taken my eyes off the past blessings and the infinite power of our Father and put too much focus of the problem that I wanted to be fixed NOW! When I began to meddle in the situation with a lack of faith, "I really jacked things up!"
I am confident that I will be able to report in a future Blog the resolution of this situation of selling our homes in Alabama. Stay tuned to hear of the Promises Yehovah has fulfilled in my life!
Buzz on the Teaching
One of our Sister Saints organized Table Discussions focused on the teachings! This was the first Shabbat where several tables were given conversation starters on cards for more in depth discussions on the teaching. The Saints at my table discussed what we did to start Shabbat on Friday evening. We learned that we all go to bed earlier on Friday night than we do during the rest of the week. Some of us read Scripture, some read books related to scripture, some just rested by mediating on the word.
Most of us agreed that we tried to use Thursday as the preparation day so that Friday would not be so crowded with things to do. One Sister Saint said she allows her sons to watch a Bible related movie. Most of the other Sister Saints did not have young children at home, so the television was not on. We even talked on how we used Bible Games, Bible Word Search and similar activities to engage children on Shabbat.
I mentioned that we have a short Bible Study (15-30 minutes) with our teens on Fridays at sundown. Floyd and I try to make it interesting and related to some of the issues they may face. Sometimes we get lively conversations going. Other times it is like trying to pull teeth and they have dead pan looks on their faces hoping that they can just leave the table and go to bed! However, we persist so that they will know they have heard the truth!
The general consensus was that the Table Discussions were great and we would continue them.
----
Those conversations led a Sister Saint to ask for advice on what she could do to have more quality time with her children. She works 5 days a week and she is really tired by Sabbath. We suggested:
Using her flextime option to work four 10 hour days so she would have Fridays off.
Having her children lay out their clothes on Friday so the "getting ready" on Shabbat is minimized.
Analyzing her budget to see if her family could cut back in some areas so that she could work part-time. One Sister Saint told of her personal experience of making only 1/3 of what she was making two years ago and with Yehovah's provisions, all of her bills are still paid and they have no lack.
Teaching her children to do tasks that will alleviate her chore list like making their beds, doing their laundry, emptying the dishwasher, etc. She complained that it took too much of her time to keep reminding them to do their chores.  We then told her in the long run her children would become responsible, but she had to be consistent with the instructions and her children should have consequences when their chores are not done.
----
Near sundown, there was still a large group of Sister and Brother Saints fellowshipping. One Sister Saint asked a Brother Saint, "In your business meetings do you wear your Tzitzits?"
He did not hesitate when he said, "Yes, I always wear them. However with a suit or tuxedo, they just look like strings hanging down." He then smiled.
She further inquired, "Do people ask you about them?"
He said, "Not really. Although a lot of people look at them."
Need Tzitzits? You can get yours here:
https://store.arthurbaileyministries.com/collections/garments
Until next time… Blessings to You and Yours,
Sharon