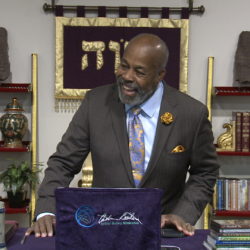 Shalom Saints,
This message was near and dear to Arthur's heart. He spent two years teaching the 105 lessons that were packaged into the Discipleship Training Program. Originally, Arthur envisioned an eight-week series on Discipleship, but the Father had a much larger plan and broader scope. Arthur's desire was to put together the type of training that he never had, but wished that he had. "Paying it forward" is one way of interpreting Yeshua's instructions to His disciples to go forth and make disciples. Making disciples is about continuing the cycle of discipleship by sharing the faith that was shared with you. Arthur declared, "Discipleship IS the Great Commission!"
Mark 16:15
And he said unto them, Go ye into all the world, and preach the gospel to every creature.
2 Timothy 2:2
"And the things you have heard me say in the presence of many witnesses entrust to reliable people who will also be qualified to teach others."
Discipleship requires self-disciple on many levels. There is a lifelong commitment to study, search the Scriptures, and share your faith. With that, one has to live what they learn because the example of our lives is what we truly pass on to others. As Arthur taught, "You teach though your examples. You teach through your practice." As disciples of Messiah, we live in a sinful world surrounded by family, friends, and strangers that have other agendas for our lives. However, we must continue on the narrow righteous path regardless of who else falls off, how tempting the world seems, or what mental battles we face. Arthur reminded us that the Holy Spirit does gift us with self-control which is self-discipline.
Galatians 5:22-23
But the fruit of the Spirit is love, joy, peace, patience, kindness, goodness, faithfulness, humility, self control. Nothing in the Torah stands against such things. (Complete Jewish Bible)
As Arthur continued describing Paul's 2nd Missionary Journey in Act 18, it is difficult not to reflect on the tests, trials and tribulations of Paul. I found great hope and encouragement in a phrase that Arthur said: "Whatever He leads me in, He will lead me out!" We have to be wise enough to always remember that there were times when we thought that we would never make it through, but we did. Those deliverances in our past will give us hope and build our faith that no matter the trouble, YeHoVaH will see us through it!
House of Israel is a Discipleship Center. Arthur reminded us that we assemble to learn and share so that we can go forth and teach others. As disciples of Yeshua Messiah, we all are required to Pay it Forward.
Arthur challenged us! "You have all this Good News, but who are you sharing it with?" Even though discipleship can be messy and fraught with backlashes, we have to take forth the Father's word. You will often have to share what people do not want to hear! Arthur encouraged us with these two proclamations.
What Father gives … give!
What Father speaks … speak!
Paul was Paying it Forward!
Sharon's Reflections on the Teaching
I think I shouted, "Teach!", when Arthur said, "Something as important as Christmas, we should see at least ONE example of the disciples celebrating it!" What came into my mind was all the people on Facebook posting their holiday plans, holiday décor, and holiday trees. Now, I am not expecting the world to be anything other than what it is. I am speaking of the people that I have had personal contact with, that post like they are Torah Keepers, and then they slip in a Christmas post. At first, I felt a bit betrayed. Then I remembered what Arthur always tells us, "Know those that labor among us!" What next came to my mind was, "Shake the dust!"
As disciples, we have to know how to best spend our valuable time. The parable of the sower speaks of four types of hearers of the word. We have to be discerning enough to know when what we have to share will be received by the hearer. We can always continue to pray for the individual, but we waste our time trying to convince someone of the truth when they flat-out refuse to give up their Christian beliefs, and man-made traditions.
Matthew 10:14
And whosoever shall not receive you, nor hear your words, when ye depart out of that house or city, shake off the dust of your feet. (King James Version)
Buzz from the Fellowship
This Sabbath we had our first congregational Spring Feasts Planning Meeting. There was excitement in the air as we discussed some of the plans for hospitality greeters, ushers, and hosts; meal planning and sign-up; goodie bags; product giveaway drawing; the Market Place; the Meet and Great Lunch; and many other activities.
The activities that are behind the scene, but absolutely necessary, are setting up and taking down the tables. We had four Brother Saints to volunteer on the spot. Another important area to be coordinated was the parking lots. We will have volunteer attendants so that our guests can be directed to one of the four parking lots. We also want to take sure that parking spaces are reserved for the guests that need to be closer to the door. Another area is maintenance; we will have designed persons circulating through the building and restrooms making sure that the facility is tidy at all times.
We have three coordinators that are dealing with aspects of the meals. The Food Sign-up Coordinators will survey the congregation for suggestions for the Passover meal beyond the lamb/goat, bitter herbs, matzo, and grape juice. The Food Prep Coordinators oversee the activities in the Kitchen. We are encouraging everyone to bring food that is ready to serve so that the necessity for chopping, slicing, and plating food will be reduced. The third Coordinator is in charge of clean up. We will have designated clean up volunteers, but are hopeful that all of the attendees will do their share to help as they have in the past.
There will be other essential Coordinators for Children's Activities, Biblical New Year decorations and food; Passover and Market Place decorations; fresh flower purchase and mid-week refreshing; preparing the Goodie bags; preparing the name tags; and preparing the registrants names to be entered into the drawing barrel.
This is an orchestrated event and many hands make light work. If you plan to join us in Charlotte, and would like to volunteer, please contact us at:
https://arthurbaileyministries.com/contact-us/
Thanks!
Until next time… Blessings to You and Yours,
Sharon