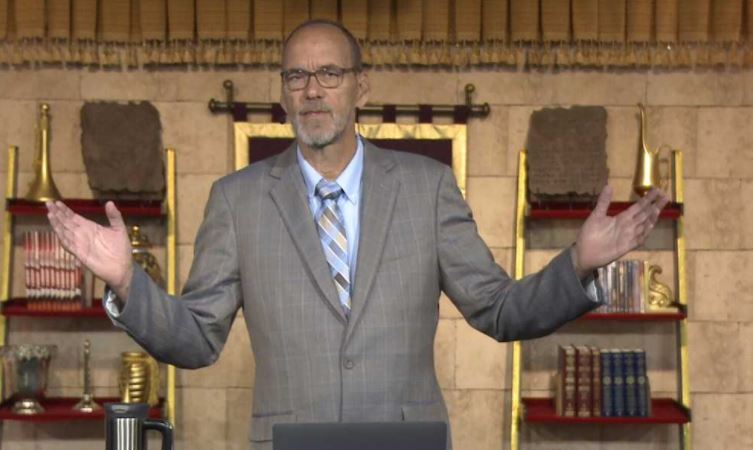 Shalom Saints,
In David's message before the message, he gave us a detailed word study on mercy and truth as used in
Proverbs 3:1-4
3 My son, forget not my law; but let thine heart keep my commandments:
2 For length of days, and long life, and peace, shall they add to thee.
3 Let not mercy and truth forsake thee: bind them about thy neck; write them upon the table of thine heart:
4 So shalt thou find favour and good understanding in the sight of God and man. (KJV)
As David went through various translations of those verses and looked at the meanings in concordances, we were able to understand that mercy means goodness, kindness, and love. The term mercy has nothing to do with Yehovah accepting us regardless of our living in a sinful state as some think, but accepting us according to the covenant relationship we have with Him. David goes on to say that Biblical truth is sure, faithful, reliable, and stable. Biblical truth goes beyond the opinions of people. David summarized by saying, "Let kindness and faithfulness never leave you. Wear that around your neck!"
Learn more about The New Covenant: A Better Covenant
https://store.arthurbaileyministries.com/collections/dvds/products/the-new-covenant-a-better-covenant
David Rogers' teaching was a road map of what to expect when you leave established religions and come into the Hebrew roots of our Messianic faith. His message was based on scripture and spiced with experiences from his journey and the journeys that other Saints have shared with him. Not only did David address the issues we will face, but he offered practical suggestions on how to handle them in a righteous manner.
Here are David's 15 tips for navigating through the word as we discern how Yehovah wants us to live. Listen to his overview of the traps that we want to avoid as we search for Biblical truth.
The Persecution and Rejection You Feel From Those Not Ready (to accept the truth)
The Lonely Walk
The Anger Reflex
The Temptation to Beat Down Christianity
Listen as David talks about avoiding the Anger Reflex and the Temptation to Beat Down Christianity.
Balancing Spirit and Truth
Torah Only Studies
Diminishing of Yahusha
Trashing Paul and the New Testament Writings
The Trap of Messianic Judaism and Their Traditions
Learn more about Religious Traps in the Messianic Faith:
Getting Your Information From Rabbinical Sources
Endless Genealogies – Knowing Your Identity
Supporting the State of Israel
The Pitfall of the Names Game
Derailment of Your Focus By Far Out Theories
Change-Lust (to have a different and unique truth that no one else has)
This is a great teaching to learn from and share with the Saints coming into the knowledge of the true gospel of the Kingdom.
Sharon's Reflections on the Teaching
As David discussed, I am so thankful that Yehovah did not reject me because I was once deep in the Christian church. I think of how utterly lost I was and yet I believed I knew enough to lead others to the truth through my Sunday School Classes. I would jump from denomination to denomination as long as the name of Jesus or Yeshua was attached to it.
Indeed, Yehovah can lift one from the "miry clay" and through Him "hope from dust can conquering rise".
My journey to truth makes me more compassionate towards those who are still lost. I know that there is hope for them, because that same hope was realized in my life.
David's lesson also made me think of this poem. Enjoy and reflect.
I was shocked, confused, bewildered
as I entered Heaven's door,
Not by the beauty of it all,
by the lights or its decor.

But it was the folks in Heaven
who made me sputter and gasp-
the thieves, the liars, the sinners,
the alcoholics, the trash.

There stood the kid from seventh grade
who swiped my lunch money twice.
Next to him was my old neighbor
who never said anything nice.

Herb, who I always thought
was rotting away in hell,
was sitting pretty on cloud nine,
looking incredibly well.

I nudged Jesus, 'What's the deal?
I would love to hear Your take.
How'd all these sinners get up here?
God must've made a mistake.
And why's everyone so quiet,
so somber? Give me a clue.'

'Hush, child, ' said He 'They're all in shock.
No one thought they'd see you.'

Judge NOT.

(Author Unknown)
The true gospel of the Kingdom is a message of REPENTANCE!
Buzz on the Teaching
The Atmosphere was quite lively during Fellowship. I moved among the clusters of Saints, some sat at tables while others stood communing. Sporadically, the room would be filled with roaring laughter from one or another of the cluster groups.
During the Q & A, my Sister Saint commented to David that she believed in the name of Jesus without question until she found out neither the letter "j" nor its sound is in the Hebrew language. Then she knew without a doubt that His name could not have been Jesus. This was a door opening for her into the knowledge of truth.
During the fellowship, she joyously slid into a chair and said she had something to share with us. She showed us some photos of her first grandchild who had just graduated from high school. Then she shared that a few days ago the Spirit prompted her to go on Facebook to her daughter's page. When she got to the page, guess what she saw? It was her granddaughter walking across the stage to receive her diploma. Then her granddaughter turned and smiled into the video camera. What made this so special was that her granddaughter lives in Jamaica. The Father is always on time!
----
Another Sister Saint started to share with me a story of how she has been ministering to the gentleman that owns the garage where they get their cars serviced. The last time she was in the shop, he gave her discounts and waived fees that Sister Saint figured was worth about $300.00. She said the following phrase from Luke 10:7 came to mind:
Luke 10:7 King James Version
7 And in the same house remain, eating and drinking such things as they give: for the labourer is worthy of his hire. Go not from house to house. (KJV)
She prayed that our Father would give her $300.00 so that she could take it to him as a testimony that our Elohim is real, still works miracles, and does care for His people. Well, I yelled when she told me that a friend came over and gave her $300.00 dollars!! She is planning to take it to the garage owner this week. HalleluYAH and Praise Yehovah!! We serve a Mighty El. He hears and cares for His people!!
----
I live in rural South Carolina. Friday night during our Bible Study it started raining at sunset. Then there was a downpour with thunder and lightning. We rejoiced! Zoe likes the rain particularly at night, so she can sleep better. I enjoy the rain especially when I'm not out in it! In my days in Michigan and Alabama, I would pray for rain to water my gardens and praise Him when He sent us rain, especially during a dry spell.
Well on Shabbat, we got a downpour in Charlotte around 6 PM.
Zoe observed, "Well we got rain at the start and end of Shabbat!"
There were quite a few of us still communing at that time. We were all content to "stay in place" until the rain passed. A Sister Saint and I went to the kitchen and pulled out a smorgasbord of delights: cheese, dates, turkey, hummus, chips, orange slices, and juice. We continued to fellowship until after 7 PM when the storm slacked up enough for us to get to our cars without getting drenched.
I was the designated driver. Zoe was riding shotgun. Floyd was in the back. Winston had left earlier after service. I started reminiscing with Zoe about the time we and another family went camping in a yurt in Harrison Lake State Park in Wauseon, Ohio. The first night a powerful storm came through. Then we received news that a tornado was heading our way. The 8 of us piled into my van and headed to my house because we lived closer.
The ride home was scary! The thunder was so loud and the lightning was so close that at one point I screamed and momentarily took my hands off the steering wheel. I was really scared and shaken!! Needless to say, I wasn't helping to keep the children calm! We did make it to my house and went back to the park the next day to enjoy our camp-out.
All this week I have been trying to get someone to go to the Fireworks with me near the South/North Carolina border. No one wants to deal with the traffic after the Fireworks; and neither do I. So, I am really looking for a driver!
Well, back to Shabbat and I am driving home.
Zoe said, "Did you see that lightning over there?"
I had only caught a reflection of it. Another strike came. It was beautiful! I then asked the Father, "Please send some more lightning. I won't be afraid like I was before. Send more, but don't let anyone get hurt."
Zoe, "And don't let any fires start!"
Then we watched as some really nice "Lightning Works" entertained us and showed us the awesomeness of our Elohim. One of the vertical strikes had a line of red and a line of blue in it!! There were horizontal ones, cloud to cloud lightning, right above us. I wanted more and more!! After a few minutes we drove out of the storm and the sky was still.
"Zoe, look for a Rainbow!"
She looked all around and sure enough, "There it is! Behind you on the left! It's big and fat!"
When we rounded a bend, I saw the sign of the Covenant that Yehovah gave to all of us in Noah's time. A Rainbow!!
Until next time… Blessings to You and Yours,
Sharon