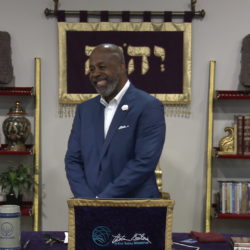 Shalom Saints,
Arthur gave it to us straight, "for the believer, persecution is a way of life". He said, "When we truly follow Yeshua, remember they persecuted Him, and they will persecute us". This teaching was a training on how to respond appropriately to persecution because the gospel must continue to move forward. In fact, Arthur even said that if we are not being persecuted, we might want to check whom we are following!
Arthur urged us not to take persecution personally. So, when (not if) the rejection comes, Arthur warned us not to take on the spirit of the rejection or be in a place of being offended. We have to "Shake the dust!" If somebody rejects you … don't take on that rejection spirit! Arthur reminded us of the examples of Yeshua and Paul. When they were rejected, they moved on. They continued to preach and teach the gospel, and demonstrate the power of the Holy Spirit.
Yeshua said that we are to bless our enemies and not curse them. Arthur reminded us that when we disregard the instructions of the Word of Messiah on how to handle offenses, at that moment, we deny or reject Messiah. Arthur also prompted us to remember who we are. Regardless of how someone treats us, it gives us no right to operate in a manner unbecoming to a son or daughter of the Most High. Therefore, as a consequence of following the Messiah, forgiveness is going to be a lifestyle!
In harmony with one of the fruits of the spirit, long suffering, Arthur encouraged us to endure persecution as long as we could. However, it is important to discern our persecutor's intent because, sometimes like Messiah and Paul, we might have to flee. Arthur brought back to our awareness that Yeshua said it is all right to run!
Our role in the Kingdom, our ministry call, is to do as Messiah did. When we live our faith, we must speak the word wherever we go; and demonstrate the Power of the Holy Spirit. Doing this, we emulate the pattern of Yeshua by teaching and demonstrating.
Arthur shared several Kingdom Keys to help us handle persecution. They were:
Be bold in your speaking.
Speak His word, not your philosophy.
Demonstrate the Power of the Holy Spirit.
Endure persecution as long as you can.
Discern your persecutors intent.
Yeshua said, sometimes you will have to flee (Know when to walk away; know when to run)
Speak the Word wherever you go.
DON'T TAKE PERSECUTION PERSONALLY!
Arthur concluded the teaching by giving some solid advice on how to handle persecution in three common areas of our lives.
On the Job
Unless you are hired to evangelize, do your job. If you are persecuted for your faith, "Stand Your Ground" and do not compromise. If your employer did not hire you to evangelize, do not let that be your focus. However, always look for opportunities to share your faith, and when the opportunity arises, "be wise as serpents, but gentle as doves".
In Public Places
Public places have rules. Know the rules, and operate within them. If you need a permit or a license, apply for it. As long as you have the right and have gone through the proper channels and processes, stand your ground with those who oppose you. Avoid unnecessary conflicts and potential altercations.
In the Home
Husbands and wives sometimes find themselves on opposing sides of each other pertaining to faith. Live your faith and be respectful of your spouse. Don't try to force your faith on the other, or attempt to manipulate or control, for that is not the spirit of YeHoVaH.
The Almighty's People in Bondage?!
Buzz from the Fellowship
During Fellowship time, I ate my Sabbath meal with a young Brother Saint who is raising his toddler son. As we discussed various things about our lives, he became interested when I happened to mention that I homeschooled my children through the ninth grade. I saw how my conversation was inspiring him to move forward with his thoughts about homeschooling, so I shared with him how I had never known anyone to homeschool until I became a part of the Evangelical Friends Church (Quaker Denomination) in Michigan. Many of the families there homeschooled their children. They persuaded me to attend a Homeschooling Conference in Lansing, Michigan when my son was still in a stroller.
I had taught adults before, but never children. At those Conference Workshops, my confidence was strengthen in believing I would be able to teach my children. There were workshops for first time teachers that really gave me the motivation that, "I can do this". Just like the families at the Conference and the families at my church had done, I shared with Brother Saint some of the ups and downs of the gratifying experience of teaching my children and not having to deal with someone else teaching them things that may oppose our faith.
Later I went to sit with at another table. Because two of the online community had family members pass this week, there was a conversation amongst 8 or 9 of the Brother and Sister Saints about the consequences of being around dead bodies according to Numbers 19. We discussed how keeping the ashes of a loved one in an urn in your home actually turns your home into a burial site and your house and the people in it are rendered unclean. We talked about immediate burial where the body is not embalmed and is buried the same day of death or the next day. The conversation also turned to dealing with the reality that our loved ones, who are not in the faith, but would have charge over our last arrangements may decide to take our bodies into churches and have a funeral if we do not leave specific instructions for our interment.
I also joined a very uplifting conversation with two Sister Saints discussing what they believed was their calling in the Kingdom. One Sister, with a counseling background, was praying and waiting for the Father to give her direction concerning her desire to work in a spiritually healing way with women. The second Sister was waiting to hear what direction the Father would lead her in Charlotte. In another city she had been a part of an intercessory prayer ministry. I was so blessed to hear these Sisters speak of readying themselves for the work that they wanted to do and having the patience to wait on the voice of Elohim to lead them forth to do His work.
Until next time… Blessings to You and Yours,
Sharon