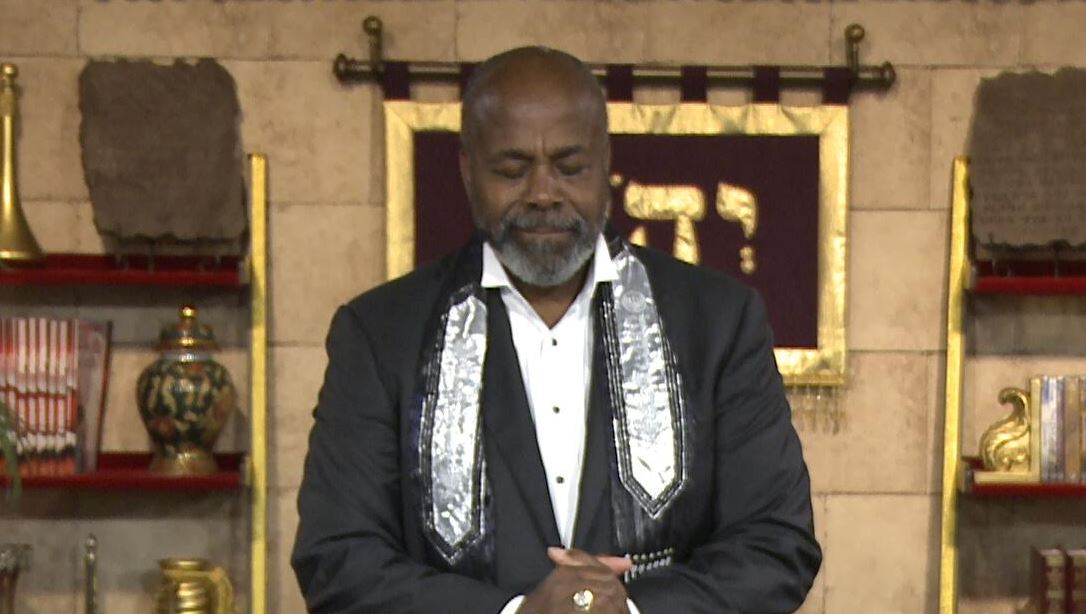 Shalom Saints,
We are the Saints continuing to write the Book of Acts!!
The Holy Spirit poured out today and we heard the thunder roll in response to our shouts to the Almighty. The manifestation of the Holy Spirit was of biblical proportions. Arthur prayed as I have never heard him pray before. He was truly a vessel that the Father was using to speak to his people who had humbly gathered in expectation of Him showing up. Our sacrificial praise and petition to Elohim was sung by Arthur:
Healed, Delivered, Set Free.
Healed, Delivered, Set Free!
I don't want to leave here the way I came,
I want to be delivered in Yeshua's Name!
Healed, Delivered, Set Free.
Be uplifted and worship with us. There is no time or space in the Spirit. As in Acts Chapter 2, in fulfillment of Joel's prophesy, Yehovah's Spirit poured out! Receive your healing, your deliverance, and be set free TODAY!
Arthur then asks the Father to anoint David Rogers to bring forth the teaching. David taught on the primary purpose of the Holy Spirit: to enable us to walk in the ways and keep the right rulings of our Elohim. David declared that the way to tell if someone was filled with the Holy Spirit is to inspect their fruit. Look at how they act, talk, and their attitude.
David eloquently and pragmatically showed how Yeshua's Second Commandment to "love our neighbors as ourselves" had its origin in the Torah and was also spoken of by the prophets and New Testament writers.
29 And Jesus answered him, The first of all the commandments is, Hear, O Israel; The Lord our God is one Lord: 3o And thou shalt love the Lord thy God with all thy heart, and with all thy soul, and with all thy mind, and with all thy strength: this is the first commandment.  31 And the second is like, namely this, Thou shalt love thy neighbour as thyself. There is none other commandment greater than these. – Mark 12:29-31 (KJV)
Listen as David explains that the Love Commandment of Yeshua does not replace the Law given by our Elohim.  In this video segment, David also gives a good explanation of the difference between favor and favoritism.  
In a moment of pure vulnerability, David shares a personal experience that many of us can relate to and learn from. David talks about how he was able to get rid of the hate in his heart towards another person. He also expounds on Apostle James' exhortation on how to rebuke our brother when we see him in sin.
Sharon's Reflections on the Teaching
The prayer and worship was so intense that I was standing, bowing, kneeling, and at one time even crouching on the floor. We serve a mighty Elohim!!
Arthur invited the Holy Spirit to walk the aisles and touch each of us. I felt the physical manifestation of the Holy Spirit enter my row and touch me on the front of my head. His presence radiated downward through my body to my feet. It was a wide tingling sensation of electrified power. I was humbled and speechless as I stood in His presence.
The rocks did not cry out praises today. We shouted extended praises to Yehovah. Then the THUNDER! Our Almighty answered us. His Majesty visited the House of Israel today!
At one point during the worship, Arthur asked us to talk to our Father and lay our petitions before him. I thought of prioritizing my petitions and just requesting one or two, then I thought, "My Father is the Creator of the whole universe and nothing is too hard for him!" I then began to lay out my petitions for the wholeness of each of my family members, for clarity in making decisions, and other desires of my heart. I even stood in the gap for some loved ones.
Then I paused and I listened to Yehovah. I heard Him say something like, "My child, you need to repent for your poor stewardship over what I gave you. Remember?" I knew exactly what He meant. After the worship service, I went to Floyd and we both repented and asked for forgiveness. We believed that our not confessing and repenting in that situation was holding up other blessings that Yehovah desired to give us. HalleluYAH for being set free!!
Buzz on the Teaching
There was an excitement in the air after the service. I saw David Salinas in the office hallway, "Sister, did you hear the thunder?"
"Wow! I did!! At first, I was trying to figure it out!"
I spoke to Arthur. He said, "Did you hear the thunder!"
"Yes! Yehovah answered when He heard his people shouting praises to Him! HalleluYAH!"
----
I had to leave briefly to take Sister Saint Texas to the airport to fly home. When I got back to HOI, I asked the Sister Saint, whose daughter Texas had prayer for, "How is your daughter doing now?"
"She is fine, but she was talking about being fearful that she might pass out again."
Then Sister Saint girded up a powerful voice like she was talking to her daughter, "I told her that is a spirit of fear in the house that someone else is allowing! You don't have fear! You do what you have to do and go where you have to go! We rebuke all fear!"
My Sister Saint delivered words of healing, deliverance and freedom to her daughter!
All I could do was say "HalleluYAH! You are so right!"
----
Later, I had an epiphany concerning my daughter. A Sister Saint walked up to me and said, "I just spoke to your daughter. She told me that college was over for her. I didn't know that."
"Yes, we agreed that she would stop. She really wasn't interested in the course of study. We battled over my pressing her. She was an A/B student in high school and just was not interested in the work in college."
My Sister Saint said, "She said she wants to be a homemaker. You do know that college is not for everyone?"
It was then that I remembered that since she was 7 or 8, I would pray over her that she would grow up to be a Proverbs 31 woman. I am seeing the fulfillment of that prayer.
Later, my daughter and I discussed all the attributes the Proverbs 31 woman encompasses. She is a Godly woman who manages her home, is a good steward and is an entrepreneur. I could visibly see my daughter relax from the tension I had been exerting on her. I felt peaceful knowing our relationship was healing, she and I could work together, and her goal was on the path Yehovah has for her.
Another healing, deliverance and set FREE!
HalleluYAH!!
Until next time… Blessings to You and Yours,
Sharon