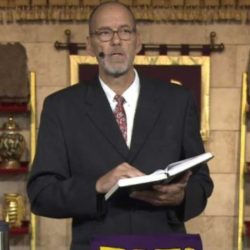 Shalom Saints,
David Rogers' teaching was fundamental to the life of each and every person who is a Saint! As a Saint, we are called to be set-apart from worldly ways, sinfulness, and the foolishness of the doctrines of men. This requires a faithfulness or fidelity (forsaking all others) to Yehovah. David explained Revelation 14:12 through several translations. The most enlightening Greek interpretation declared that we are to have the faith OF Yeshua. This means that like Yeshua, we MUST comply with the will and commands of Yehovah. Biblically, belief results in obedience! This was a message full of meat, no milk here!
The teaching was organized around nine points. Here are a few highlights to encourage you to watch or re-watch this teaching.
• What is Perseverance and why is it important?
Perseverance is the ability to endure the challenges that come our way as believers. Our faith will be tested to see if we trust Elohim.
• What is free will? What is predestination? Listen as David explains that "adoption" is the predestination! Truly, free will and predestination are intertwined.
• Can you lose salvation?
David builds his case on this issue by stating that Elohim is just and fair. Elohim does not change. So David poses the question: Does Yeshua's dying change Elohim's rules so it doesn't matter how we live our lives? NO! Elohim has to repay each person according to what he/she has done. So, can you lose your salvation? Yes. Each person receives their due reward.

A key fundamental understanding that is often missed by Christendom is that righteousness is not what you believe; it is what you do as you carry out your beliefs. Redemption results in a change. David gives a great interpretation of the Parable of the Sower that illustrates how one can lose their salvation.
After a very enlightening discussion on Hebrews 11 on how faith is substance and evidence, David ends this powerful message by exhorting us not to shrink from discipline from on high, but to strengthen our knees, be strong and courageous. David exclaims that we must pursue holiness, without which, no one will see Elohim.
Learn more about what we are to "obey": The New Covenant - A Better Covenant
Sharon's Reflections on the Teaching
There is an idiom used by my Mother's generation that means that someone thought more highly of themselves than they ought. It is "highly hoped up!"
Our family in Detroit was a mixture of people coming from the country, and marrying people from the South. At most family events there were a smattering of folks from Alabama, Georgia, Tennessee, South Carolina and Mississippi. Most of the folks in my Mother's generation had immigrated to Detroit for jobs in the factory or to help with businesses started by their relatives.
Many had less than a 6th grade education, but had lots of money due to legal and illegal sources. This was a source of frustration because they could dress-up and go to high class places, but were not really accepted because of their lack of education and inability to communicate in Standard English.
I remember quite clearly sitting in my Aunt's kitchen during a winter holiday gathering and the house was full of extended family and friends. My Aunt's sister-in-law was sitting next to me and still had on her full-length mink coat. Her husband was talking across the room and she spoke up to correct him, "Not us's, honey, we'es". I still chuckle at that faux pas.
I think about how Elohim will judge us according to His commands NOT according to how well we think of ourselves. I think that when we excuse our non-compliance to Elohim's commands, we are "Highly hoped up!"
Buzz on the Fellowship
We have a HOI Prayer Team composed of Saints locally and nationally. They pray regularly for the prayer requests that come to Karen, our Ministry Support Specialist. We appreciate the Team's dedication and their ministry to help the body of Messiah through prayer. This Shabbat was the monthly meeting of the Prayer Team via Zoom. (It is an Internet App that will allow everyone signed on to see each other.) They received unexpected onscreen pop visits from several of the in-house Saints including Minister David Rogers. The Team was delighted!
Learn more about prayer: Teach Us How to Pray
This week the Table Topic was "Preserving Foods Through Dehydration". I was the presenter and I shared dried veggies and fruits with a group of Sister and Brother Saints. The dried watermelon was the favorite treat. That was followed by the pineapple slices and apple bits flavored with strawberry juice. I also brought baggies for the Saints to take home dried cut celery, red and green bell peppers and the left over fruits: Granny Smith apples, Gala apples, and cantaloupe.
I learned something new too. I had dried lemon, orange and lime slices to be used in tea or lemonade. However, several Sisters began to eat them! "Oh, no! Those are for using in your tea!" I thought they would be bitter. The Sisters assured me they were tasty.
One of our next Table topics will be sharing ideas for gardening indoors and in small spaces.
One of the most significant conversations for me was with three Sister Saints about how dental health affects your overall health. We shared issues we were dealing with. My Sister Saints were very supportive and we were all uplifted and encouraged that all will be well.
Deuteronomy 4:40 Thou shalt keep therefore his statutes, and his commandments, which I command thee this day, that it may go well with thee, and with thy children after thee, and that thou mayest prolong thy days upon the earth, which the Lord thy God giveth thee, for ever. (KJV)
Until next time… Blessings to You and Yours,
Sharon