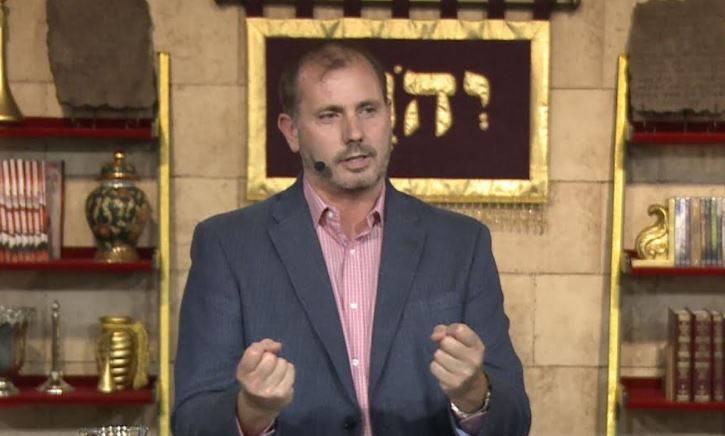 Shalom Saints,
Arthur introduced Dr. Kenny Russell as having an uncompromising calling on his life. Kenny travels all over the world with messages from the Father to His people. Kenny shared how he hears people say they are ready for the gospel of the Kingdom. He has recently spoken to 35 church pastors who were eager to hear the truth.
Kenny described how the enemy wants to keep us bound up so that we cannot answer the Father's call. The enemy wants us to have our hopes deferred to such an extent that we don't believe Yehovah's promises to us will ever become a reality. However, we must consider it all joy when our faith is tested because passing the tests results in maturity and having a lack of nothing! Kenny smiled when he said, "Pray for the storms!"
Kenny made an emotional appeal to us to be sure our hopes are based on promises in scripture. When we look to the word, we are choosing life. Disobedience is choosing death and destruction. Kenny warned us not to think that we are above failing. If Moses, who witnessed the miracles and the manifestations of Yehovah, failed through disobedience, so could we.
Kenny used verses from Hosea and Deuteronomy as he weaved his teaching to tremendously bless us all with two prophetic words from the Father.
First, our Father knows the end from the beginning. He knows that we will have set backs and even love other gods, but He loves us anyway.  Kenny lovingly said that we might think we have sinned too much, but this is the day of supernatural transformation!  We just haven't known the guidelines.  Read, study and live the guidelines, the Torah!  Yeshua died for us.  Will we live for Him?  Yeshua needs us to be the people who are praying and calling out, "Here I am!  Send me. Use me."
Learn more about hearing and obeying from Arthur's teaching on Hear O Israel…:  https://store.arthurbaileyministries.com/collections/dvds/products/hear-o-israel
Shavuot/Pentecost is soon. Kenny said expect the outpouring of the power of the Holy Spirit. We cannot understand the word or live a holy life without the Holy Spirit. Kenny emphasized that we are still living in the Book of Acts and we need the "continual" outpouring of the Holy Spirit. We have to realize the Almighty placed us here for such a time as this and that no weapon formed against us shall prosper! We are called to be an example to this generation.
When we are called and anointed by Yehovah, we must constantly assess ourselves so that we don't become trapped in a snare of our own making. The snare engulfs us when we want to use our power for our own personal and/or political benefit. As we approach Shavuot/Pentecost, we should take an account of what we are really worshipping, and sit before Yehovah and wait on His guidance. The Almighty will save/deliver/prosper you supernaturally, not by natural means.
Listen to Kenny's dramatic presentation of his spell-binding near death experience.
Second, Kenny asked, "Are you facing disappointment in your walk with Yehovah?" Kenny then excitedly announced that the Father is calling us unto Himself!  It is time to rise up and be all the Father has called us to be.  Kenny shows us that we have to fight for life and see trouble as a door of hope.  Kenny suggests that, just maybe, the Father is breaking you because of your disobedience and lifestyle.  Kenny challenges us to "wake-up!"  Come back to Torah and teach the people to walk in truth.
Arthur closed out the evening by speaking what Yehovah had given him tonight.  Arthur said he sensed people crying out "Release me! Release me!"  Arthur firmly stated that we don't have to ask Satan to let us go!  The Father has already freed us!  Listen to Arthur to learn how to walk away from bondage and declare freedom in every aspect of your life!
Here are the links to the two teachings that Arthur mentions that will help you walk in freedom in your life.
Pulling Down Strongholds:
http://arthurbaileyministries.com/biblical-teachings/pulling-down-strongholds/
The Power of Your Words:
https://store.arthurbaileyministries.com/collections/dvds/products/the-power-of-your-words
Sharon's Reflections on the Teaching
"Pray for the storms?" I know the storms have come and will continue to come, so I am praying for the ability to ride out the storms and be better as a result of the experiences.
Case in point, I used to be fearful when I was alone in a house overnight by myself. I didn't have the fear if I was in an apartment or a duplex, because I figured I could yell loud enough for other people in the building to hear me. When Floyd worked the midnight shift at Chrysler in Trenton, Michigan, we lived in the country with no neighbors within yelling distance.
I almost had panic attacks because I would let my mind run down the "what if" track of my imagination. I envisioned attackers swinging from the tall trees through the upstairs windows with machetes; or waking up and seeing someone standing over me in bed; or hearing someone in the house and trying to figure out if I could squeeze under the metal bed frame to hide under the bed and leave the bed sheets and covers smooth enough so the intruders would not know someone had been in the bed and was hiding in the room. I was in bondage to fear!
I eventually learned how to cope by reading verses I kept on a card near the bed and singing the song lyrics I had written on the card. When Floyd retired in 2004, I only had to cross that bridge on two more occasions. Those two times, I really had to talk to myself and calm down the fear and I didn't sleep too well. Those were times before I started keeping Torah and the Holy Spirit dwelt in me.
Well, there is always a Final Exam! This week Floyd, our son, and daughter went on a three day trip to Alabama. The enemy started on me a week earlier when it was determined that they would go and I would stay in South Carolina. There are no neighbors in yelling distance. I was determined to not let my grown-self fall into the clutches of fear. I could feel it wanting to surface, but I turned from it and claimed
The angel of the Lord encampeth round about them that fear him, and delivereth them. - (KJV) Psalm 34:7
I confided some of the trepidation to my Sister Saint and she immediately said plead the blood of Yeshua all around your property and station guardian angels all over your property. I did! Those two nights, I checked all the house doors, closed my bedroom door as usual. (I also locked it.) I did not have heart palpitations as before and both nights I slept well. One morning I slept in until 8 AM, which is HIGHLY irregular for me. Anytime the enemy wanted to bring up a thought, I rebuked it and cast it down with "No weapons formed against me shall prosper!"
HalleluYAH!! I'll give myself a B++ on that. I'm sure another test will come where I can leave the bedroom door unlocked and get that A++!
What storms are you going through?
Until next time… Blessings to You and Yours,
Sharon