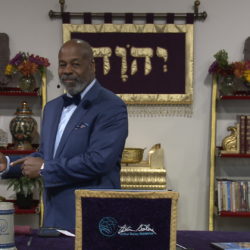 Shalom Saints,
Arthur was quite masterful at conducting a verse-by-verse Teaching on this multi-faceted portion of Acts 15. Only 11 verses were covered, Verses 19-29, yet there was a wealth of information drawn from those verses. Arthur shared his search of those Scriptures with us. It was quite enlightening on how much more one is able to learn by digging deeper into the meaning of words; cross referencing scriptures; looking for witnesses in Scripture to verify verses; reading historical background material; checking ancient and modern maps; and most importantly, putting yourself in the Book. Each time Arthur teaches, he is showing us the techniques he taught in the Discipleship Program.
​​​​Here are the Highlights from the Teaching.
The Holy Spirit leads us into ALL Truth.

There are things that are true, but not TRUTH.
The Holy Spirit was given to those who trust and believe in Yeshua.

The Bible contains the Word of Elohim, but it has gone through the hands of man; therefore, we have to search the Scriptures!
There were three types of Assemblies during the time when the Book of Acts was written:

The Tabernacle/Temple
The Synagogue
The Ekklesia/Church

Synagogues were created in Babylon, ruled, and controlled by Pharisees.


Gentiles were going to Synagogues before the message of Messiah.
The Gentiles who went to Synagogues were converts to Judaism, not followers of Messiah.

Yeshua said He would build His Ekklesia, not Synagogue, and the gates of hell will not prevail against it.
The believers in Messiah met in the temple courts and from house to house.
Paul, before his conversion, made havoc in the Assemblies. He dragged men and women out of houses not Synagogues.
When Messiah came, the religious Jews didn't recognize Him because they weren't following Torah.
The Law of YeHoVaH made no distinction between the native born and the strangers who joined themselves to Israel.

​Exodus 12:49
One law shall be to him that is homeborn, and unto the stranger that sojourneth among you.

James and the Assembly did not say the Gentiles did not have to keep the Laws of YeHoVaH.
The take-away from this Teaching is definitely to SEARCH THE SCRIPTURES.
Discern the Check in Your Spirit
Sharon's Reflections on the Teaching
Arthur spoke about how words will subvert your soul. I can recall a situation early-on in my marriage where I almost let the words of someone derail my marriage. Arthur said that if you heard words that were contrary to your beliefs, you would be swayed if your beliefs were not solid.
Floyd and I were having marital problems. The problems were about communications; the type of communications I wanted versus the type Floyd was giving. I will say, in Floyd's defense that if he were writing this Blog, the issue most likely would be stated slightly differently.
We went to a religious marriage counselor at a church that either of us belonged to and were just going there occasionally. The young "twenty-something" junior pastor spoke to us separately. That should have been a red flag, but each of us was happy to be able to vent freely about what we saw as the problem. We both had a tacit agreement on the source of the problem: the other spouse!
Well, we must have took this minister to the limits of his ability because all he could come up with was that if he had counseled us before we married, HE NEVER WOULD HAVE MARRIED US. That was devastating! We wanted to reconcile our differences, after all we were in our forties and wanted to make a go of our marriage. We decided to find help elsewhere.
However, whenever we hit a rockier portion of the marriage, my mind would go back to what that young minister had said. I would be angry at myself for marrying Floyd and that would cause me to be very difficult to live with when I was feeling stuck in a marriage that the minister said could only spiral downward.
We did find other counselors that gave us practical advice about how to improve our communications. Arthur was one of them. This was back in the days when Arthur answered his own phone. I remember calling Arthur when we were living in Alabama. His advice was always solidly based on Biblical principles. What Arthur advised wasn't always what I wanted to hear; most of the time it wasn't! However, correction is not initially pleasant.
​Hebrews 12:11
11 Now no chastening for the present seemeth to be joyous, but grievous: nevertheless afterward it yieldeth the peaceable fruit of righteousness unto them which are exercised thereby.
Use your discernment to determine from whom you will seek advice and to whom you will listen. If their words and counsel don't line up with Scripture, reject it. Arthur said today, "No matter what counsel you get, always inquire of The Counselor".
Buzz from the Fellowship
Today we had an abundance of food! (Yesterday we fasted during the Day of Atonement.)
The conversations were lively and I had an opportunity to talk extensively with one of the guests invited by a Brother Saint. Our guest was originally from West Virginia and he had lived in on the Indian Reservation there. It just happened that I was somewhat familiar with that general area of West Virginia because I had regularly attended yearly Women's Retreats in Ripley, West Virginia. He was quite adept at recounting the stories of his past and telling several of us about how the Father had used him many times for others to receive their healings. This was his first visit to a Messianic Assembly. We hope he returns and we look forward to fellowshipping with him again.
There was a conversation about planting and growing our own produce. This was an extension of Arthur's discourse concerning "really knowing" what we are eating. Arthur's discussion about "what was strangled meat" took on a life of its own when many of us became more concerned about stepping up our due diligence concerning what we eat. Sometimes this is more than just reading labels. We may have to call the food manufacturer or the slaughterer to find out the details. Arthur said that each household has to make their own decisions about how they can best be responsible to eat Biblically clean.
As I am preparing this Blog for publishing on the website, there are 6 volunteers buzzing around helping with the preparations for Tabernacles. Three of the volunteers are from The Bahamas and my Sister Saint from Texas is "in the House"! The partying has begun.
Until next time… Blessings to You and Yours,
Sharon