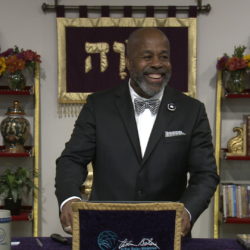 Shalom Saints,
Arthur claimed victory over the prognosticators of devastation! Hurricane Florence was a Category 4 Hurricane when Arthur and the Saints spoke to Florence in Thursday's Searching the Scriptures Service. The Newscasters predicted that Florence would be a Category 5 Hurricane when it made landfall in the Carolinas. Arthur and many of us exercised the divine authority given to us to have power over the winds and the elements. As Arthur recounted how the rating of the Hurricane decreased from 4, 3, 2, 1, and then to a tropical storm, the excitement in the room rose to a crescendo. We praised YeHoVaH and our faith grew as we saw the manifestation of our authority from the King of the Universe.
The Message Before the Teaching was an exposition on "Who are you listening to?" We had a choice to listen to the newscasters or listen to the example from Yeshua.
Mark 4:39
And he arose, and rebuked the wind, and said unto the sea, Peace, be still. And the wind ceased, and there was a great calm. (KJV)

Arthur reminded us that the Father says to cast all of our cares on Him because He cares for us and will never forsake us. It was a powerful object lesson. We spoke forth, stood in faith, and then saw the salvation of the Almighty! Arthur said that the more we grow in faith, by exercising our authority, we would see that the works that Messiah did, we would be able to do without fear or excuse. Our victory cry was:
Yeshua Did It! I Can Do It! YESHUA DID IT! I CAN DO IT!
The Main Teaching was focused on describing the events leading to the judgement and subsequent letters emanating from James and the First Jerusalem Council. Arthur spent time delineating the relevant characteristics of James, Paul, Peter and others present at the Council meeting.
James, the brother of Messiah, presided over the meeting and was quite knowledgeable in the Tanakh and the Prophets. Arthur surmised that James was a learned man because of James' understanding of spiritual history through the Tabernacle of David. The Scriptures also tell of his parents who both heard from YeHoVaH and had an angelic visitations. Arthur concluded that Joseph and Mary instructed their children in the Word, as also seen in their keeping of the Feasts.
Arthur brought out an interesting point about Paul. Paul had not walked with Messiah and therefore did not experience some of the faith lessons that the other disciples witnessed. Paul wasn't on the boat when Yeshua calmed the storm. Arthur called our attention to the fact that Paul was in three shipwrecks, and the Scriptures do not give any evidence that Paul spoke to the winds and waves to obey his will.
2 Corinthians 11:25
Thrice was I beaten with rods, once was I stoned, thrice I suffered shipwreck, a night and a day I have been in the deep; (KJV)
Arthur touched on different topic, obedience. He stressed that it is expedient to be obedient to the instructions of the Father. Arthur warned us that the Father has a way of getting us moving according to His Will when we disobey. The method is often persecution. Yeshua told the Apostles to take the gospel to ALL nations; they decided to stay in Jerusalem. It was a hard lesson to learn that regardless to what others say, rationalize, and entreat, we ALWAYS need to obey what the Almighty says. The gospel was spread largely by persecution moving the believers to different nations of the world.
Sharon's Reflections on the Teaching
I was definitely moved by the The Message After the Teaching that happened after the Q & A Session! What Arthur said was so vital to our walk in Messiah. I rejoiced when my Sister Saint in Texas transcribed that portion of the Teaching and sent it to the ministry. Arthur shared a personal experience to highlight that the Almighty will bring people in your life for a season. The Father doesn't always send people for a lifelong relationship. We have to understand that throughout our lives we will experience transitions as people come and go. As a result of one of these seasonal encounters, Arthur shared with us the conversation he had with Father.
Father: "Do you know who you are?"
Arthur: And I know who I am and what I'm called to, but the question challenged me which is why I came in here firing on all cylinders this morning in the authority that we've been given. He says to me,
Father: "You need to understand people know you as Arthur, people know you as Dr. Bailey, people know you as Apostle Bailey, people know you as Elder Bailey, and people know you as father and brother. People know you as a lot of things, but they don't know who you are. Don't be bothered by the fact that people don't know who you are. You BE who I called you to BE.
People are always trying to make you fit their paradigm. People will challenge you. People will question you. People will abandon you. When people can't get what they want from you, or get what they want to get through you, then they'll turn around and demonize you. And the fact of the matter is that everybody has their motives. There are people that I've called; there are people that I've assigned; there are people that I've brought; and there are some folks that are coming.
Know who you are and don't compromise it!
KNOW WHO YOU ARE AND DON'T COMPROMISE IT!
You will say somethings; you will do somethings. Some people will get it; some people will see it; some people will recognize. Your own children may not recognize who you are. Your own wife may not recognize who you are. Your own siblings may not recognize who you are, but YOU BE WHAT I CALLED YOU TO BE.
Arthur: And that's a tough word folks! When you and I walk in the authority that Messiah has given you and I, I'm gonna tell you, there is a power residing within us that is dormant that is needing to be awakened just as Creation groans and cries for the sons of YeHoVaH to show up. Even our inward man is groaning and crying. That's what the Holy Ghost is doing - groaning with utterances that we can't even speak. …
There are things whirling around inside us and in the Pentecostal Church they used to say, "You're pregnant; you have to push. There's a baby in you; you have to birth this thing!" Ahh, of course that's Pentecostal language, but the fact of the matter is, that there are nations; there are nations we're supposed to reach. There are shores we are going to embark upon that we have not yet embarked upon. There are people crying out just like the Macedonians crying out and showing up in Paul's vision. There are people who are crying out to us and you can't afford to fit in the paradigm of other people because if you try to fit in the paradigm of other people, you won't hear the cry, nor will you respond to the cry.
Father: And don't make the mistake of looking at the resources that is in your hands because I know the things you need, I got you!
Arthur: And see, I'm saying this to us because this word is not just to me, IT'S TO US!! And people have put you in a place … a box is one. Your education level depends on your income; there is a status that people have put you in. The educational system has put you in a status; your employer has put you in a status.
But YeHoVaH has established a status, and that status does not come beneath any worldly status, unless you allow people to put you there. And in doing so, you will always walk and operate beneath the anointing that you have been called to walk in.
And when you walk in that anointing just as Hurricane Florence had to hear, there are some other Florences, there are some Hugos, there some other names and systems that have not yet developed.
There are things that are coming at us, Brothers and Sisters, that we're gonna have to know who we are because as the prophet said,
"The people who know their Elohim shall be strong and they will do exploits!"
The Question is do you believe it?
I have to believe what He says about me, which means I have to ignore what people are saying. Those are the other voices.
Can Your Mind Fathom This?!
I hope you have been blessed, as I have, by this message from our Apostle!
Until next time … Blessings to You and Yours,
Sharon