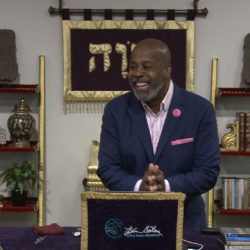 Shalom Saints,
Arthur had a weighty responsibility to convey the messages of the Apostles in Acts while teaching in a way that is meaningful to 21st Century Saints. The messages in the Books of Acts are serious and come with important and sometimes dangerous possible consequences if the messages are not heeded. Arthur clearly told us that entering the Kingdom of the Almighty will not be something casual. Citizenship would require pressing in, enduring affliction, suffering persecution, suffering oppression, and experiencing anguish. And on top of that, Arthur reminded us that Yeshua said it's not a matter of enduring for a little while, you have to endure to the end!
Arthur did say there is a bright side to this picture. "We will, and can, have peace in Yeshua while we endure tribulation in the world!" Apostle warned us not to buy the lie of the world because the world gives a false sense of peace and a false sense of freedom. Outside of Messiah, we have no peace! We are followers of Messiah and He has already overcome the obstacles in the path; we just have to keep our eyes on Messiah and do as He has instructed us to do.
Arthur explained that we will have to endure people questioning us about our faith. Persecution is a consequence of declaring and living the Word. In spite of the tribulations, we have to operate according to the integrity of the Father's Word. We have to renew our minds from the things of the world and embrace the things of the Kingdom. Even though many who started in the faith with you may not endure; we must endure to the end.
A fitting summary of this teaching would be, as Arthur acknowledged, we will spend eternity somewhere; the "where" will depend on us and our response to Elohim.
When persecution comes, rejoice, for great is your reward.
Romans 5:1-5 Therefore being justified by faith, we have peace with God through our Lord Jesus Christ: 2 By whom also we have access by faith into this grace wherein we stand, and rejoice in hope of the glory of God. 3 And not only so, but we glory in tribulations also: knowing that tribulation worketh patience;
4 And patience, experience; and experience, hope: 5 And hope maketh not ashamed; because the love of God is shed abroad in our hearts by the Holy Ghost which is given unto us.
Put Nothing Else Before Elohim!
Sharon's Reflections on the Teaching
During the Teaching, Arthur talked about how our Elohim is a jealous Elohim. The Father will not tolerate having idols before him; things or people. Arthur mentioned how we will mindlessly repeat song lyrics that are in direct opposition to the Commands of the Father. He gave this example:
You are my sunshine,
My ONLY sunshine.
You make me happy
When skies are gray.
Arthur pointed out that for your child, spouse, friend, or anyone to have that "ONLY" position, was idolatry and in essence placing someone before the Almighty.
This was especially poignant to me this week because Aretha Franklin passed and for a couple of days, I heard one song repeatedly. When the song was first released in 1967, I was in the world and of the world, so I heard it as a love song and longed to find someone that I could feel that way about and marry.
Last week when I heard the lyrics, with the understanding that I have now, and I was shocked to realize that no man could ever fulfill those lyrics. How could I have danced and sung those lyrics over and over. Read these verses of the lyrics and see what I mean.
Looking out on the morning rain
I used to feel so uninspired
And when I knew I had to face another day
Lord, it made me feel so tired
Before the day I met you, life was so unkind
But you're the key to my peace of mind

'Cause you make me feel,
You make me feel,
You make me feel like
A natural woman​
When my soul was in the lost and found
You came along to claim it
I didn't know just what was wrong with me
Till your kiss helped me name it
Now I'm no longer doubtful, of what I'm living for
And if I make you happy, I don't need to do more
​
Those are attributes of the Creator. He is the key to our peace of mind; He uplifts our soul, and He gives us a purpose!
We must be careful of what we speak! Arthur said that we can't get around the reaping, so we'd better watch what we're sowing. Remember:
Matthew 12:36 But I say unto you, That every idle word that men shall speak, they shall give account thereof in the day of judgment.
Buzz from the Fellowship
Sabbath Fellowship is generally refreshing for me. I get a chance to meet and greet newcomers as well as have continuing conversations with the regulars. I look forward to sharing conversations and life experiences with the newcomers because I enjoy hearing about different the paths and cultural ways to Messiah. I had thought about being a cultural anthropologist in my earlier years. My husband and I very much enjoy traveling, getting off the beaten path, meeting the locals and hearing their stories. How much more convenient and exciting to meet so many people that come through the doors of House of Israel and to meet them in an environment that is filled with the presence of the Father!
I have learned to meet people where they are because I can relate to being in the world and believing that I had figured out this life. I would have rejected anyone that came on heavy to tell me that my world view and way of living was out of line with the Father. For instance, I was talking to two Christians on Sabbath and the conversation turned to raising animals. One of them said that they had shot and ate a rabbit. I just casually mentioned that I had also eaten them before I found out that they were not food according to Scripture. The person just said, "But they are good tasting; they taste like chicken!" I laughed and let the subject move on to something else. My purpose in interacting with them was to welcome them to the congregation, not to condemn them, or stifle the conversation. We had a wonderful time together and they hugged me when they left. I hope that they were able to see Messiah in me and that the seeds that I planted will be watered by another Saint when they return home to another state.
Let's all be productive in the Father's vineyard by planting, watering, and praying for Him to bring the increase. Amein!
Until next time… Blessings to You and Yours,
Sharon